Wadesboro Motorcycle Accident Lawyer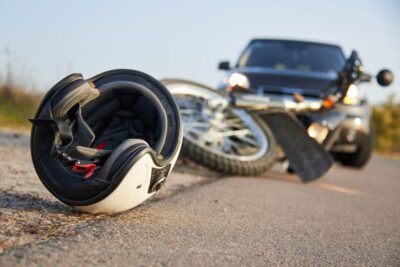 Recovering from injuries suffered in a Wadesboro motorcycle accident can be challenging for multiple reasons. Bikers tend to suffer serious, and in some instances, life-threatening injuries after a collision with cars, trucks, or commercial vehicles. With little protection, a collision with a much larger vehicle can cause catastrophic injuries. 
Motorcyclists are often the target of unfair bias as well. Many insurers use unfair stereotypes to blame the motorcycle rider for causing the crash. 
At Poisson, Poisson & Bower, PLLC, we have been helping motorcycle accident victims for over four decades recover the compensation they deserve for serious personal injuries. We understand the tactics that many insurance companies use to lowball motorcycle accident cases. We are ready to challenge their strategy by building a compelling case backed by evidence. We want motorcycle accident victims in Wadesboro to recover the fair compensation they need to move forward with the healing process.
Empower yourself. Contact the Wadesboro personal injury lawyers at Poisson, Poisson & Bower, PLLC, today. Set up a free and confidential consultation and find out how we help motorcycle accident victims like you.
How Our Wadesboro Motorcycle Accident Lawyers Can Help
Being involved in a motorcycle accident can be overwhelming. You may be trying to recuperate from devastating injuries while managing everyday life, like missing work and paying bills. Even finding specialists to treat your complicated injuries can be a struggle. Don't you wish you had someone helping you and looking out for your best interests?
That is what we offer at the law firm of Poisson, Poisson & Bower, PLLC. We know the recovery process is about more than your physical health. It is a total package. That means managing your physical, mental, and financial well-being. 
Our motorcycle accident attorneys can give you peace of mind that your claim is in good hands. We will investigate the cause of the accident, collect evidence to support your claim, and communicate with the insurance company on your behalf. We'll negotiate aggressively for you to earn you the money you deserve. Is the insurance adjuster not willing to negotiate? We won't hesitate to file a lawsuit for you.
While we fight for your financial security, we also understand that the healing process can take a tremendous toll on your physical and mental health. Our legal team can help you find the medical care you need for your serious injuries. We will also be a compassionate shoulder to lean on when you need a little extra care.
Common Causes of Motorcycle Accidents in Wadesboro, North Carolina
Negligent motor vehicle operators who fail to pay attention to their surroundings while driving often cause motorcycle accidents. Motorcycles tend to be harder to see than other passenger vehicles, but not keeping a sharp lookout is no excuse. 
Some of the most common causes of North Carolina motorcycle accidents include:
Distracted driving
Drowsy driving
Driving while intoxicated
Speeding
Unsafe lane changes and turns, especially a left-hand turn
Failing to obey traffic signs and signals
Tailgating
Dooring accidents
Lane-splitting
Vehicle defects
Poor weather conditions
When another driver's negligent actions cause a motorcycle crash, the at-fault driver may be responsible for paying your medical expenses. Talk to our experienced Wadesboro motorcycle accident lawyers for a free consultation about your potential case today.
Injuries Caused by Motorcycle Accidents
Motorcycle accidents can be devastating events. Riders have little in the way of protection when compared to the safety features of a car or truck. Often, motorcycle accidents leave riders with catastrophic injuries that can alter a person's life forever. 
Examples of common injuries motorcycle riders suffer include:
Traumatic brain injuries
Paralysis
Amputations
Broken bones
Organ damage
Joint injuries
Internal bleeding
Burns
Road rash
Lacerations
Contusions
These types of injuries come with significant physical and financial costs. 
Who Can Be Held Responsible for a Motorcycle Crash in Wadesboro, NC?
Negligent drivers and other parties who contribute to motorcycle accidents can be held accountable for their actions in Wadesboro. However, people who ride motorcycles need to understand the North Carolina rules that govern compensation. 
North Carolina is an all-or-nothing state. It is one of only a handful of states that follows the contributory negligence doctrine. That means that any driver who is found partially responsible for the circumstances of a crash will be barred from receiving compensation. Even if the other driver is 99 percent responsible for an accident and the victim is one percent responsible, the victim will still be unable to recover compensation.
If an insurer has any reason to believe that a victim even slightly contributed to the cause of the accident, they will tend to play hardball in compensation negotiations. They know that if the case ever made it to court, the victim could end up with nothing. That's why you need a strong personal injury lawyer who will fight for your rights and demonstrate that you were not at all to blame for the crash.
Types of Compensation for Motorcycle Accidents
If you suffered a personal injury in a North Carolina motorcycle accident by a negligent driver, you may be able to recover valuable compensation, such as:
Medical bills 
Lost wages
Loss of earning capacity
Future medical bills 
Pain and suffering
Property damage
Out-of-pocket expenses
Wrongful death benefits in fatal crashes
You don't have to take an insurer's first offer. Insurance adjusters are skilled at making settlement offers that would keep more money in their employer's pockets. Our skilled Wadesboro motorcycle crash attorneys can review your motorcycle accident claim and estimate how much compensation you could be entitled to under North Carolina law.
Safety Tips for Motorcyclists on Highways
The North Carolina Division of Motor Vehicles estimates that motorcyclist deaths have increased by 8.9 percent on North Carolina roadways. High speeds combined with erratic traffic patterns can cause problems for riders.
Consider these safety tips the next time you hit the road:
Wear a helmet.
Add a visor to your helmet

or wear eye goggles.

Wear proper riding gear

like boots and a leather jacket and pants.

Check the weather conditions

before hitting the road.

Inspect your motorcycle

before each ride.

Use your lights and wear reflective gear

that can be easily seen.

Avoid tailgating or unsafe lane changes.
Follow all posted traffic signs

, signals, and speed limits.

Do not lane-split.
Map your route ahead of time.
Contact Our Motorcycle Accident Attorneys in Wadesboro Today 
If you want to seek the full value of the compensation you deserve for a motorcycle injury, it is vital that you contact an experienced Wadesboro motorcycle accident lawyer as soon as possible. The team at the law firm of Poisson, Poisson & Bower, PLLC, will be ready to assist you when you call our office or reach out to us online. Our consultations are always 100% free, so contact us now.