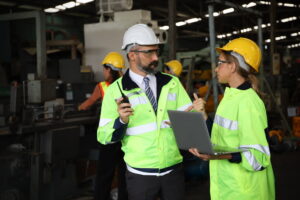 Employers and injured workers frequently clash over work restrictions after on-the-job accidents. It's easy to see why this happens: Injured workers don't want to return to work too soon or aggravate an existing injury, while employers want injured workers to resume their full duties as soon as possible. When these goals collide, the dispute can escalate to legal action.
If you sustained an on-the-job injury in North Carolina, it's crucial to understand your rights and the protections under state law. The North Carolina workers' compensation lawyers at Poisson, Poisson & Bower, PLLC, have handled many of these cases and are equipped to protect your rights if your employer is hassling you.
What If an Employer Cannot Accommodate Work Restrictions?
Unfortunately, no law says your employer must accommodate your work restrictions or keep your job until you heal. However, you might qualify for additional workers' comp benefits or disability benefits if your injuries prevent you from working and your employer can't or won't accommodate your work restrictions.
Do I Have to Accept Light-Duty Work?
If your employer offers you "suitable employment" that fits within your work restrictions, refusing to take it could jeopardize your workers' comp benefits. While your employer must keep paying your medical bills until you reach maximum medical improvement, you could lose your wage-replacement benefits or other compensation if you turn down "suitable" work.
If you're offered a position at your employer that fits your work restrictions, state law says you have the right to a nine-month trial period to see if you can continue to do your job.
Some common examples of light-duty restrictions a doctor might order include:
Limited lifting
No repetitive motions
Avoid prolonged standing or sitting
No climbing
No heavy pushing or pulling
Limited overhead work
No prolonged gripping or grasping
Mandatory use of assistive devices
Limited exposure to vibrations
Restricted work hours
No exposure to extreme temperatures
Will My Workers' Comp Benefits Be Affected If I Go Back to Work?
Returning to work generally means losing at least some of your workers' comp wage-replacement benefits. Your employer must continue to pay for your medical treatment until you reach maximum medical improvement. If you can return to work without restrictions, you will lose your wage-replacement benefits. If your doctor allows you to return to work with restrictions that affect your pay, you might keep some of your wage-replacement benefits to make up the difference between your pre-injury and post-injury wages.
How Can a Lawyer Help Me in a Dispute Over Work Restrictions?
If you and your employer clash over your work restrictions, our workers' compensation attorneys can help by:
Providing legal advice and guidance – Our workers' comp lawyers can provide legal advice and guidance on your rights and options, ensuring you are aware of the appropriate steps to take.
Handling communication with your employer – Our lawyers can act as an intermediary between you and your employer, negotiating for your employer to make the necessary accommodations or ensure you get paid if they won't accommodate your restrictions.
Ensuring proper documentation – Our workers' comp lawyers can gather and maintain appropriate documentation of your injury, medical treatments, work restrictions, and any correspondence with your employer. This can be crucial in building a case if the matter goes to court.
Filing a claim – If necessary, a workers' comp lawyer can help you file a formal claim with the North Carolina Industrial Commission.
Representing you in hearings or appeals – If your employer refuses to accommodate your restrictions or disputes your claim, our attorneys can represent you in any hearings or appeals related to your case.
Contact Our NC Workers' Comp Attorneys to Protect Your Rights
Our North Carolina workers' compensation attorneys can help you stand up to your employer if they refuse to make accommodations for your injury or disability or if you don't get wage-replacement benefits as you should. Call Poisson, Poisson & Bower, PLLC, today or visit our contact page for a free consultation.