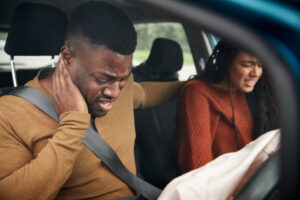 What should you do if you suffered an injury while riding as a passenger in a North Carolina car accident? Who will pay for your medical bills? Is there insurance for passengers in car crashes?
These are critical questions, and you deserve straightforward answers to protect your legal rights. This page discusses what insurance coverage could cover passengers injured in auto accidents, how injured passengers can seek compensation, and what to do immediately after an accident in North Carolina.
Insurance Coverage for Passengers Hurt in NC Car Crashes
North Carolina requires minimum liability insurance for drivers, which covers bodily injury and property damage caused by policyholders. Therefore, an injured passenger could file a claim against the at-fault driver's insurance policy after a car crash in North Carolina. That means you'll need to determine who is responsible for the accident.
If the driver of the car you were in caused the accident, you could file a claim with their insurance provider. If a driver of another vehicle caused the accident, you could file a claim with their insurance provider.
If the at-fault driver lacks insurance or was a hit-and-run driver, recovering compensation might be challenging. However, all auto insurance policies in North Carolina must include uninsured motorist (UM) coverage. If you or someone in your household has auto insurance, your UM coverage would likely compensate you for injuries and other losses caused by an uninsured motorist or a hit-and-run driver.
Recovering Compensation as a Passenger in a Single-Vehicle Crash
If you get injured as a passenger in a single-vehicle crash, and the driver is at fault, you can seek compensation from the driver's insurance policy. While this might sound awkward if the driver is a friend or family member, you will only need to communicate with the insurer, and the driver should not have to pay anything out-of-pocket beyond any deductibles that might apply.
If the driver carries optional Medical Payments (MedPay) coverage, you might be able to collect benefits from the policy regardless of who is at fault for the crash.
Can a Passenger Be Liable for a Crash in North Carolina?
While rare, a passenger could be liable for a crash if their actions contributed to or caused the collision. A passenger might be responsible for a car accident if, for example:
They grabbed the steering wheel, causing the driver to lose control of the vehicle.
They distracted the driver or obstructed their view.
They knowingly rode with an impaired driver.
In North Carolina, an accident victim who is even 1 percent at fault for an accident is barred from recovering any compensation. Therefore, if an insurance company accuses you of contributing to your injuries as a passenger, consult an attorney immediately.
Steps a Passenger Should Take After a Car Accident
If you are a passenger hurt in a car accident, you should take the following steps to protect your rights:
Stay at the scene until police or emergency responders arrive.
Get medical attention for your injuries.
Take photos and videos of the accident scene.
Keep copies of your medical bills and other receipts for crash-related expenses.
Keep a journal to track how your injuries impact your daily life.
Consult an experienced car accident attorney.
Get Help from Our North Carolina Car Accident Lawyers Now
The North Carolina car accident lawyers at Poisson, Poisson & Bower, PLLC, want to help if you are a passenger hurt in a car accident. Let us handle your claim against the at-fault driver, no matter who they are, so you can focus on healing.
Contact Poisson, Poisson & Bower, PLLC, today for a free consultation.