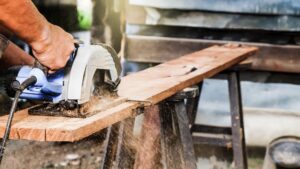 Working with power tools can be extremely dangerous, and an accident can cause severe injuries. Even when used properly, tools like drills, nail guns, saws, sanders, and impact drivers can malfunction or overheat. Power tools with design or manufacturing defects can also cause severe injuries. 
Regardless of how your workplace injuries occurred, workers' compensation benefits should pay for your medical bills and offset some of your lost wages, helping you make ends meet during a difficult time. Unfortunately, getting these benefits can be more challenging than it should be without legal help.
The North Carolina workers' compensation attorneys at Poisson, Poisson & Bower, PLLC, want to help you claim the benefits you need after a power tool accident. Contact us now for a free consultation.
The Dangers of Power Tools
Workers in fields like construction, manufacturing, and automotive repair use power tools every day to do their jobs. A power tool is a valuable piece of equipment, but only if it is used correctly and works as it should.
Some common power tools that can cause severe injuries include:
Nail guns
Drills and drill impacts
Impact drivers and jackhammers
Lathes and other woodworking tools
Circular saws, table saws, and other cutting tools
Sanders and grinders
Chippers
Electrical and wiring tools
Mechanics' tools
Industrial equipment
When these tools malfunction or are misused, they can cause injuries like:
Puncture wounds and lacerations

 – Any power tool with a sharp edge can cause deep cuts if it touches unprotected skin. Similarly, devices like nail guns and hammers can drive objects through the skin and cause puncture wounds.

Eye injuries

 – Saws, drills, and other power tools sometimes release sparks or bits of debris. These sparks and debris can enter the eye and cause severe damage.

Electric shocks

 – If a power tool's battery malfunctions or the tool's wiring frays, workers can suffer electric shocks and severe burns.

Crushing injuries and amputations

 – Industrial equipment can crush workers' limbs and bodies if they are caught in the machinery. Workers who use saws and chippers are also at risk of suffering a severed limb.
Filing an NC Workers' Comp Claim for a Power Tool Injury
Most North Carolina employers are required to provide workers' compensation coverage to their workers. If you suffer a power tool injury on the job, you likely have the right to workers' compensation benefits. These benefits pay for your injury-related medical bills and part of your lost wages if you cannot work. Workers' comp also provides disability benefits for long-term injuries and death benefits for surviving family members of workers who pass away because of their injuries. 
One problem you might encounter after a power tool accident at work is if your employer has classified you as an independent contractor. Employers do not have to offer workers' comp benefits to contractors, which could leave you without a financial lifeline after an injury. However, employers sometimes misclassify employees as contractors to save money, which means you may be eligible for workers' comp benefits. Talk to our workers' comp lawyers if your employer says you are ineligible.
In addition to workers' comp benefits, you may have grounds for a product liability claim after a power tool accident. If you can show the tool was defective and that the defect is a result of the manufacturer's negligence, you can sue the manufacturer for compensation. Our lawyers can evaluate your case and tell you if you may have a product liability claim.
Contact Our Experienced NC Workers' Comp Lawyers Today
The team at Poisson, Poisson & Bower is ready to help you demand the workers' compensation benefits you need after a power tool accident. We can also help you with a product liability claim if a defective tool caused the accident. For more information, contact our North Carolina workers' compensation lawyers today for a free consultation.